Sassanid Militia Spearmen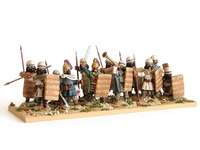 Welcome to my 'newly juvenated' Wargaming web-site, which is built using Sandvox. After an hiatus, during which I had no write access, and couldn't figure out why, I have regained access. Hopefully, updates should continue at fairly regular intervals now.
This web-site is about my obsession with wargaming, modelling and model soldiers, not forgetting history and archaeology of course. It tends to be heavy on Romans, and there are lots of images - sorry if your connection is slow. Wargaming, for me, is a very 'visual' hobby - so 'eye-candy' is important.
I try to keep the blog reasonably up-to-date with my thoughts and activities. I hope you enjoy your visit, and that you return often. This is very much a work-in-progress; I'm not very good at all this world wide web stuff, so expect things to change often!  If there's some piece of information you really need, grab it while you can!