Yesterday afternoon, I took myself off to 'seek God'. Reading through what I wrote before 'settling down' - and during the time I spent, I thought I could, perhaps, publish it to my blog 'as is', though it's probably longer than my usual posts - and not all of it 'makes sense' in terms of a story (i.e. it's a bit rambling, but to edit it would lose the sense of a tired, over-wrought, mind trying to find rest) - so here goes (I have used an ellipsis … to indicate the passage of a significant period of time between thoughts):
This afternoon is my first 'attempt' to get into 'Pause and Pray' or 'Be Still' - our church's autumn 'sabbath'. First, I think I need a 'brain dump' - to get a lot of thoughts out of my head. Writing is, for me, the most effective way to accomplish that, so here goes for some 'stream of consciousness' writing stuff.
I thought I was heading for the hills.
I lift up my eyes to the mountains - where does my help come from?
My help comes from the Lord, the Maker of heaven and earth. Psalm 121:1-2 (NIV)
Instead, I have ended up sitting under an oak tree, beside a stream.
The Lord is my shepherd; I shall not want.
He maketh me to lie down in green pastures: he leadeth me beside the still waters.
He restoreth my soul: he leadeth me in the paths of righteousness for his name's sake. Psalm 23:1-3
As I left Lancaster behind and below me, driving up here to the Trough of Bowland, I became aware of my breathing and heart rate dropping as I began to leave behind the stresses and strains of everyday life; its griefs, worries and concerns.
A large part of this year has been, to be frank, hell. Even when I haven't been grief-stricken, I have mostly felt as though I was tied up in knots; as though I was thrashing around trying to escape my bonds. Not a whole lot of peace and blessing has been evident. The notion that this autumn was going to be a sort of 'sabbatical' - a time to pause, draw breath and seek God after five frenetic years of headlong endeavour, all compounded by the grief of losing parents and friends, sounded heavenly.
And then I heard the plans.
It sounded to me, in my over-tired, over-wrought, state, as though we were just adding a whole load of 'opportunities' for prayer into our already overly busy lives. Cue complete meltdown. "I need less, or even nothing, not more!" was my plaintive cry. After a lot of tears and several long talks with wise friends; still somewhat battered and bruised, here I am, turning aside from the everyday.
Now Moses was tending the flock of Jethro his father-in-law, the priest of Midian, and he led the flock to the far side of the wilderness and came to Horeb, the mountain of God. There the angel of the Lord appeared to him in flames of fire from within a bush. Moses saw that though the bush was on fire it did not burn up. So Moses thought, "I will go over and see this strange sight - why the bush does not burn up." 
When the Lord saw that he had gone over to look, God called to him from within the bush, "Moses! Moses!" And Moses said, "Here I am." 
"Do not come any closer," God said. "Take off your sandals, for the place where you are standing is holy ground." Then he said, "I am the God of your father, the God of Abraham, the God of Isaac and the God of Jacob." At this, Moses hid his face, because he was afraid to look at God. Exodus 3:1-6
So, here I am, a little like Moses, but for a distinct lack of burning bushes.
When I have trouble sleeping, usually because 'real life' seems too much to cope with, there are two scriptures I turn to... Oddly (or perhaps not), Anne, my fellow churchwarden, recites exactly the same psalms in the same circumstances. Sorry, Psalm 23 is in the 'hymn' version - that's how it's stored in my memory, and I don't seem to be able to 'overwrite it' with a more accurately translated version!
The Lord's my Shepherd, I'll not want.
He makes me down to lie
In pastures green; He leadeth me
The quiet waters by.
My soul He doth restore again;
And me to walk doth make
Within the paths of righteousness,
Even for His own Name's sake.
Yea, though I walk in death's dark vale,
Yet will I fear none ill;
For Thou art with me; and Thy rod
And staff me comfort still.
My table Thou hast furnished
In presence of my foes;
My head Thou dost with oil anoint,
And my cup overflows.
Goodness and mercy all my life
Shall surely follow me;
And in God's house forevermore
My dwelling place shall be.
Whoever dwells in the shelter of the Most High will rest in the shadow of the Almighty.
I will say of the Lord, "He is my refuge and my fortress, my God, in whom I trust."
Surely he will save you from the fowler's snare and from the deadly pestilence.
He will cover you with his feathers, and under his wings you will find refuge; his faithfulness will be your shield and rampart. 
You will not fear the terror of night, nor the arrow that flies by day,
nor the pestilence that stalks in the darkness, nor the plague that destroys at midday.
A thousand may fall at your side, ten thousand at your right hand, but it will not come near you.
You will only observe with your eyes and see the punishment of the wicked.
If you say, "The Lord is my refuge," and you make the Most High your dwelling,
no harm will overtake you, no disaster will come near your tent. 
For he will command his angels concerning you to guard you in all your ways;
they will lift you up in their hands, so that you will not strike your foot against a stone.
You will tread on the lion and the cobra; you will trample the great lion and the serpent.
"Because he loves me," says the Lord, "I will rescue him; I will protect him, for he acknowledges my name.
He will call on me, and I will answer him; I will be with him in trouble, I will deliver him and honour him.
With long life I will satisfy him and show him my salvation." Psalm 91
This is me. This where I am. Sat under a tree. Wondering where God is in my life.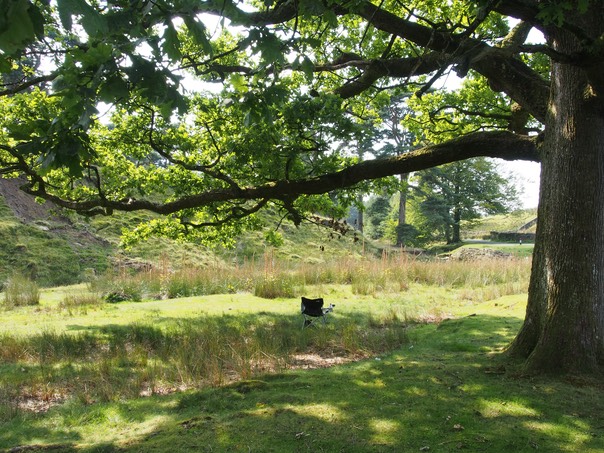 Here I am.
He says, "Be still, and know that I am God; I will be exalted among the nations, I will be exalted in the earth." Psalm 46:10 (NIV)
I am not truly still. My mind still flits around, like some demented bat chasing moths in the darkness. But this is as still as I can manage. It is the best I can do.
Here I am Lord.
...
Looking at the trees, and the grass; the dead foxglove heads and the insects; listening to the wind in the branches, and the babbling of the brook; the buzzing of the bumble bees and the tweeting of the birds.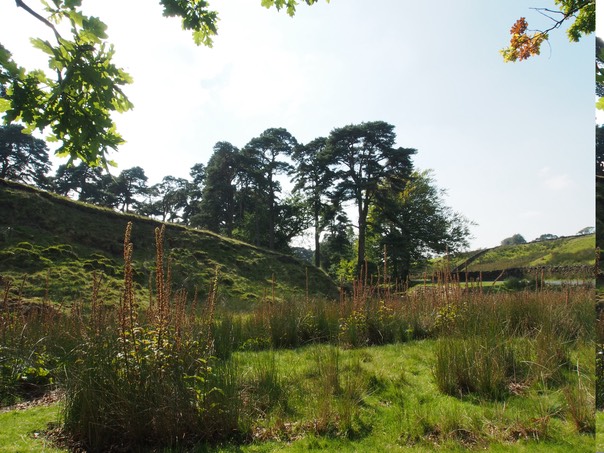 Here I am Lord.
...
I want to say "Where are you Lord?" but that is almost like trying to order God around. I have no right. But your Word says that you love me. Indeed, that you love me so much that you sent your son to die in my stead.
That is wonderful. 
BUT.
Right now it seems nebulous, unreal, and far-off. If I can be so bold, it seems barely relevant to where I find myself at the moment. I need to feel your presence here, now, with me. Terribly presumptuous of me, I know. But that is how I feel. Naked and alone in a vast, unfeeling but beautiful, universe.
Where are you God?
...
I began, sitting in the shade of the oak tree. But now the sun has moved around, and I find myself sitting in the sun, lit and warmed by its fires.
Is that merely what I would expect to happen (it is perfectly natural, after all), or is there a sign there for me? A prediction, or prophecy if you like, of moving from a dark, cold, place into a warm, bright spot?
...
Now that I am still, I am conscious of being surrounded by life. 
Flying, walking, crawling, wriggling; thousands of tiny creatures, all going about their business, all doing what they do, while I lie here, waiting.
For something. 
Or, rather, for someOne.
...
Peace. Stillness. Warmth. Quiet. I have s t o p p e d.   S  t  i  l  l.
Shalom. Peace be with you.
Thank you.