I went for a walk this morning, and came across this ploughed field, which made me think about the Christian life.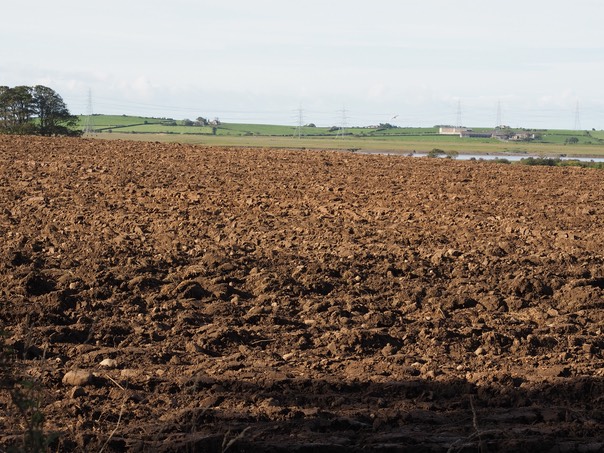 Jesus was born, grew up, was executed, died and was buried. On the third day He rose again to new life. Christians believe that he is the 'first fruits':
But Christ has indeed been raised from the dead, the firstfruits of those who have fallen asleep. For since death came through a man, the resurrection of the dead comes also through a man. For as in Adam all die, so in Christ all will be made alive. But each in turn: Christ, the firstfruits; then, when he comes, those who belong to him. 1 Corinthians 15: 20-23
That's what this ploughed field reminded me of - whatever was growing there before has died and been buried. In the spring new life will come, in the form of a new crop.
When we become Christians, and are baptised we are, symbolically, 'slain' in the waters of baptism and 'resurrected' when we arise out of the water. And that, supposedly, is that - we go on into our life in the Kingdom of God:
And we all, who with unveiled faces contemplate the Lord's glory, are being transformed into his image with ever-increasing glory, which comes from the Lord, who is the Spirit. 2 Corinthians 3:18
Do not conform to the pattern of this world, but be transformed by the renewing of your mind. Romans 12:2
But my experience suggests that life has many of these 'death and rebirth' events, following, one upon another, each leading us 'further up and further in' (to steal a phrase from from CS Lewis' 'The Last Battle') in our Christian lives.
I think my life has been like that. Dark times (like 'little deaths' in a sense?) followed by something akin to rebirth and new, new life. Each time, after coming through a dark time, I am a little wiser, perhaps a little more 'Christlike', and more blessed by the feeling of increasing closeness to God's glory.
Right now, I am in a 'sunlit', 'summer', phase, having been through a dark, wintry, time in 2015, and been healed in 2016. For now I am rejoicing in journeying in the 'sunlit uplands'.
And a highway will be there;
   it will be called the Way of Holiness;
   it will be for those who walk on that Way.
The unclean will not journey on it;
   wicked fools will not go about on it.
No lion will be there,
   nor any ravenous beast;
   they will not be found there.
But only the redeemed will walk there,
   and those the Lord has rescued will return.
They will enter Zion with singing;
   everlasting joy will crown their heads.
Gladness and joy will overtake them,
   and sorrow and sighing will flee away. Isaiah 35: 8-10