We have just been on holiday to Rome. Given the usual sort of content of this blog, that may seem like an odd starting point, but please bear with me, while I try to explain…
As some of my regular, long-term, readers may have gathered by now, I have a long-standing interest in all things to do with ancient Rome. So visiting Rome is a source of great excitement - and almost any tiny chunk of Roman 'stuff', spotted whilst wandering around that city, has the power to set my imagination into overdrive… Even just walking the pavements, wondering what lies beneath!
On Friday, we visited the 'Palazzo Massimo', which is a museum filled, largely, with marble sculptures - some of well-known figures (emperors and the like), as well as unidentified people. On the top floor is a somewhat different collection - some truly exquisite mosaics (with the detail made of tiny, tiny, pieces of material, creating incredibly vivd scenes), and some very fine frescoes (wall paintings) from Roman buildings - most of which have had to be removed to preserve them after excavation. One, which I have wanted to see for a very long time, is the wall paintings from a complete room… That of a semi-subterranean triclinium (dining room) from the Empress Livia's villa at Prima Porta, about 12km (8 miles) north of the centre of Rome. The dining room was semi-subterranean presumably so that it would be a cooler place to eat in the sweltering heat of an Italian summer. It seems though, that the empress wanted to feel as though she was dining 'al fresco' (pun unintentional!), and this is the result - a beautiful, fanciful, garden scene of the most amazing artistry. It is exquisite.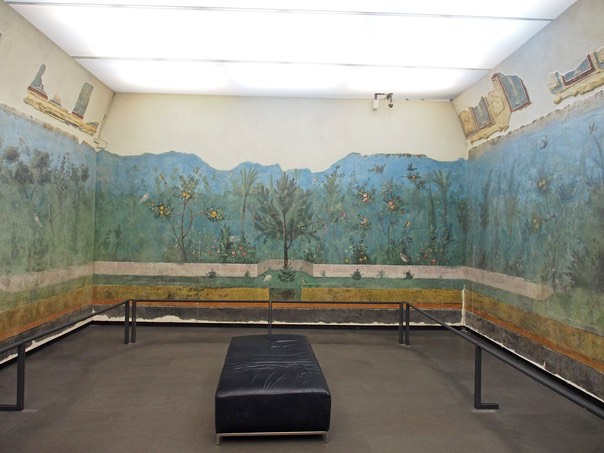 Whilst sitting on the padded bench in the centre, drinking in the scene before me, hardly daring to believe I was actually seeing it, a series of thoughts went through my head. Firstly, that I was (obviously!) viewing something seen by Livia (and probably her husband, the first emperor of Rome, Augustus) two millennia ago. Secondly, that it was amazing that it has survived - albeit in a somewhat fragmentary state, needing some restoration to bring the bits back together and appear 'whole'. but then thirdly, as I was pondering the vastness of time which has passed since it was painted, a little portion of scripture came to me:
In those days Caesar Augustus issued a decree that a census should be taken of the entire Roman world. (This was the first census that took place whilea Quirinius was governor of Syria.) And everyone went to their own town to register.
So Joseph also went up from the town of Nazareth in Galilee to Judea, to Bethlehem the town of David, because he belonged to the house and line of David. He went there to register with Mary, who was pledged to be married to him and was expecting a child. While they were there, the time came for the baby to be born, and she gave birth to her firstborn, a son. She wrapped him in cloths and placed him in a manger, because there was no guest room available for them. Luke 2: 1-7 (NIV)
This is a key passage in scripture, because it places Jesus' birth firmly in the reign of Augustus. What struck me most forcefully is that it is entirely possible that, at the time Jesus was born in Bethlehem, the Empress Livia (and perhaps her husband, Augustus, too) may have been reclining in her dining room, eating dinner, and gazing on this scene that I was now looking at. I find that utterly mind-boggling.