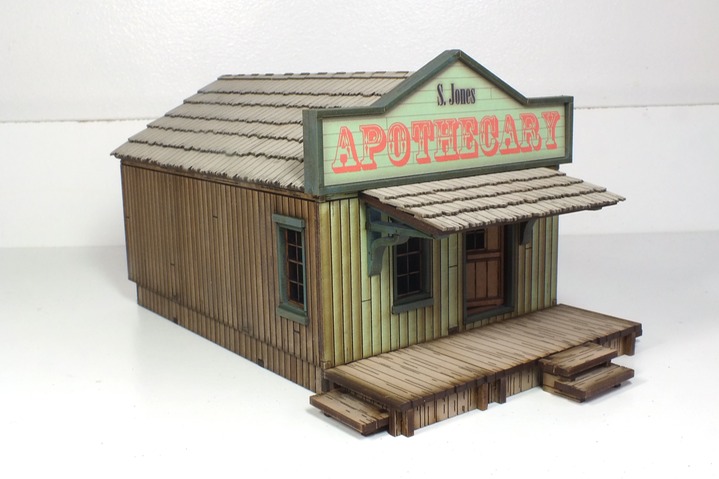 Here is my first Old West building from 4Ground's 'Dead Man's Hand' Range. The range is designed to compliment Great Escape Games' exciting new Dead Man's Hand skirmish game.
As supplied, the buildings are quite nice - they're 'pre-painted' - which appears to mean that they paint the sheet of MDF before laser-cutting/etching it. The 'soot' from the cutting process provides some quite attractive 'staining'. The disadvantage of this manufacturing method is that the burnt 'cut' edges stand out rather. Happily, it's the work of moments to touch up the most noticeable of the edges, lifting the model to another level. I wasn't very happy with the look of the roof, so I decided to improve it by adding a set of shingles - also from 4Ground.
I'm not sure about the name for my town. At the moment it's 'Second Chance City'. It is appropriate, since this is my second go at this project! It probably sounds a bit odd to UK folks, but is no odder than a lot of real towns in the Old West - from 'Contention City' to 'Roachtown'. There's even a place called 'Idiotville' in Oregon!! 
The business is an apothecary's shop because I decided to name the businesses after wargaming friends and their professions - Steve Jones, of the Newark Irregulars, is a pharmacist.  it may not be the obvious choice for the first building in a town, but in the absence of any better ideas…
The sign is removable in any case - it was just drawn on my Mac, printed on good-quality card, and is a snug fit in the 'hole' - so I can change it any time I like.
The front door works - you can open and close it.  The inner door is supposed to be glued in place, but it didn't take long, with a small drill and some brass wire, to make that work too. Yes, I admit it, I'm a lunatic!