This hasn't exactly been a 'vintage year' for my wargaming hobby.  It has though, finished on a high, which is undoubtedly a good thing. Some of you may recall that, around last Christmas (i.e. 2012), I began, tentatively, a 'Wild West' project. I built a couple of buildings, and bought some Dixon Miniatures' figures. And then I got 'cold feet' - the figures were very different, scale-wise, from the buildings; the latter didn't have detailed interiors and I didn't fancy the job of scratchbuilding interiors for them. My mojo deserted me and I simply stopped.
And then I had a real 'hiatus' - I'm not in paid employment; instead I volunteer at a local church - I am one of the churchwardens. The job is enormous; it's a very busy, large, church, with an awful lot going on. This year has seen significant changes, most of which I've been involved in, or responsible for, 'driving forward' - such as a change from two to three services to accommodate  a significant increase in membership. I also took over responsibility for health and safety, and for buildings maintenance (having previously 'sorted out' safeguarding for children and for vulnerable adults). And I didn't really look after myself, or take enough time off, so by the autumn I was pretty much burned out. And then I had a sort of 'mini-breakdown'.
A large part of the cure for that, as well as a lot of talking and sleeping, was getting stuck into my hobbies again. So I've been busy.
At The Other Partizan in September, I'd seen 4Ground's 'Dead Man's Hand' buildings, with their 'finished' interiors, and 'pre-painted' nature. That set me thinking. So I sold off the previous two buildings, and the Dixons, and bought a couple of 4Ground's buildings, which went together very nicely indeed - though I did 'improve' them a bit, by 'touching up' the cut edges, adding a shingle roof to one and a 'tar paper' roof to the other.  They turned out so well that I bought all the rest of the range which was available at the time (there are more now!), using the money I'd made from selling the previous buildings and figures.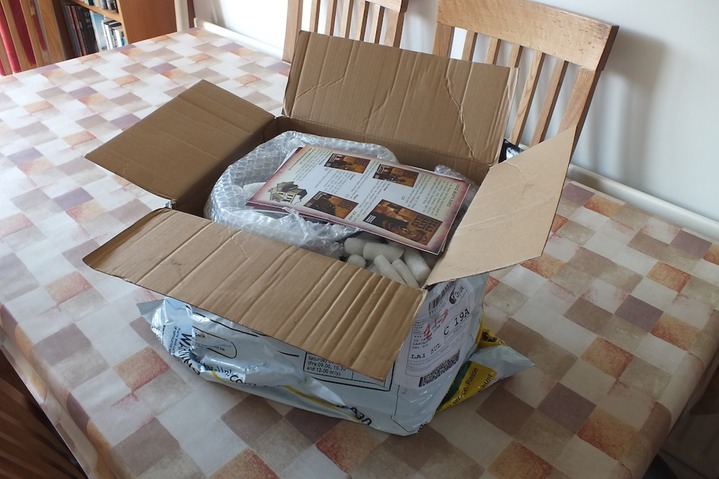 I also bought all of Great Escape Games' 'Dead Man's Hand' figures, which match the buildings pretty nicely, as well as a set of 'civilians' from 1st Corps.
I decided to 'do it properly' and draw some building signs on my Mac. I fancy I might offer these for sale, perhaps as 'bespoke' designs - i.e. you tell me what lettering you want, and I design it - for a price! Hence the 'SAMPLE' text!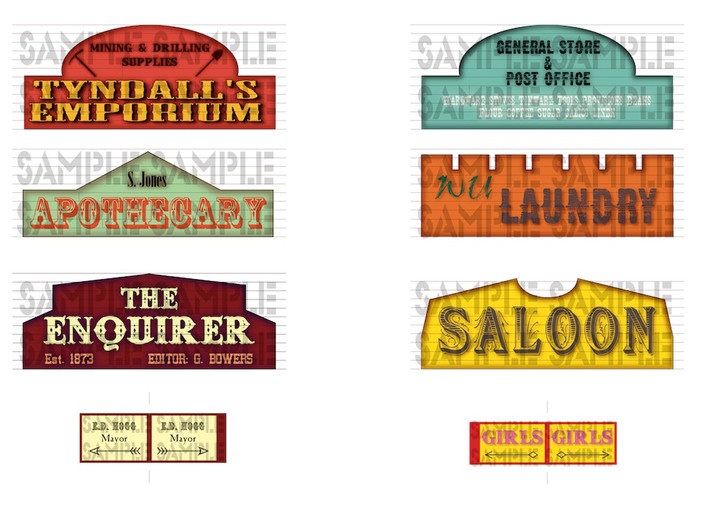 Why 'Second Chance City'? Well, I thought it seemed 'logical' as it's my second go at building a 'Wild West' town.
I've also done a few Romans - Praetorians and Cataphracts for my third century 'Fire in the East' project.
For 2014?  Well, I don't really do New Year's Resolutions, but I think I ought to take good care not to get overworked and distracted by 'real world' issues, and to keep some 'me time' to indulge my hobbies. And not to fritter away that 'me time', but to focus on the hobby 'task', which is far more satisfying/less frustrating.
I've still got a lot to do for 'Second Chance City'.  I've got three more buildings and a gallows to build, some casualties to paint, and then I need to base the buildings (all the loose bits of boardwalk are a pain and need to be stuck down).  I also need more 'civilians', plus horses and vehicles, as well as lots of clutter - boxes, sacks, etc, etc. And I shall probably be unable to resist more figures! I also want a water-tower and one of those typical 'wind-pumps'. And an hotel, and a livery stable and an undertakers, and so on...
I'm going to use my 'desert' undercloth, with some more 'grassy' bits of terrain added, so that it's more 'semi-desert', and not entirely unsuitable for cattle. I might scratch-build a few 'adobe' buildings, so the setting is more 'south-western'.
Rules... I've bought lots of 'Gunfight' rules over the years, and like several of them, but none enough to think they're ideal, so I may do as I did with ancients and write my own - so there's a lot of reading going on (and watching of westerns, much to my family's disgust!).
So, in the end, this year hasn't finished off too badly - I've got my wargaming mojo back, an interesting project well under way, and I'm looking forward to more in the new year.
Happy 2014 everyone!