Weblog
This post started out a week or so ago entitled "What's wrong with men and masculinity?", and was shaping up to be a sort of 'whistle stop tour' of what I think is going wrong with men at the moment - the widespread mental health issues and the related issue of being 'macho' or not appearing weak; how I don't really understand how men relate to each other and, lastly, the issue of inappropriate behaviour towards women. But then the whole Harvey Weinstein and associated #MeToo thing broke cover. And I was, frankly, appalled. Appalled that men could behave so insensitively, so badly… And, seemingly, very often without even realising that they were causing anxiety or fear amongst women. I may return to the wider issues in a later post, but for now let's stick with sexual assault and inappropriate behaviour towards women.
First of all, I'd like to issue a blanket apology to all my female friends and acquaintances. If I've ever acted in a way which seemed inappropriate (even a hug which went on a second too long) or frightening to you; or if I've ever said anything which made you feel threatened or which was inappropriate, I am truly, deeply, sorry. And if you want to take that up with me, face-to-face, I promise that I will (a) listen humbly and respectfully and (b) make amends if I can.
Today is World Mental Health Day. I'm not a health professional; nor have I ever been diagnosed with any recognised mental health condition. But, like most folk who've survived fifty-odd years on this planet, I've been through some tough times. Life is good, now, but it hasn't always been that way; I've had my share of tough times. Toughest amongst those was losing a child… And a lot of what's written here is based on that particular experience of grief.
I thought that I'd chat a little, in my non-expert way, about what has helped me in tough times. And what didn't help!
I think that, top of the list for me, are dependable friends. Folk who will just be there. Tough times can be incredibly lonely. Firstly, you're trying to cope with the most awful, gut-wrenching feelings of grief, or other pain - it can feel as though you're totally alone. And there are a lot of people, even close friends, who really don't know what to say, or to do; so they say, or do, nothing - they simply disappear. And then you feel even more isolated. The sense of isolation can be almost as painful as the grief itself. Avoiding hurting friends only serves your needs.
I went for a walk this morning, and came across this ploughed field, which made me think about the Christian life.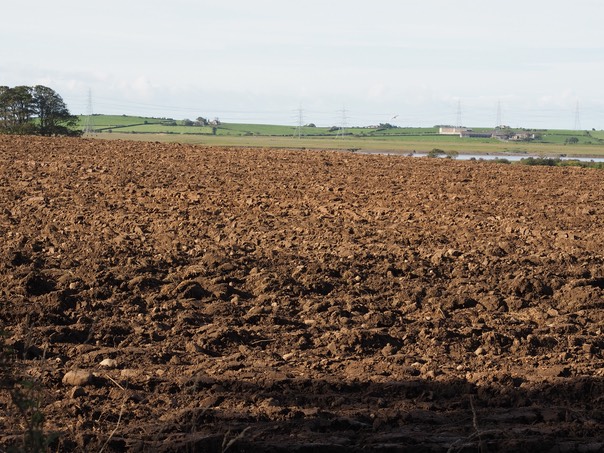 Jesus was born, grew up, was executed, died and was buried. On the third day He rose again to new life. Christians believe that he is the 'first fruits':
But Christ has indeed been raised from the dead, the firstfruits of those who have fallen asleep. For since death came through a man, the resurrection of the dead comes also through a man. For as in Adam all die, so in Christ all will be made alive. But each in turn: Christ, the firstfruits; then, when he comes, those who belong to him. 1 Corinthians 15: 20-23
That's what this ploughed field reminded me of - whatever was growing there before has died and been buried. In the spring new life will come, in the form of a new crop.
When we become Christians, and are baptised we are, symbolically, 'slain' in the waters of baptism and 'resurrected' when we arise out of the water. And that, supposedly, is that - we go on into our life in the Kingdom of God: